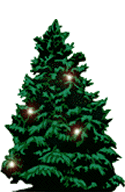 ERGLE CHRISTMAS TREE FARM
Choose & Cut, Wholesale, Retail Lot, Potted, Gift/Craft Shop, Wreaths, Petting Farm/Zoo
Sand Pine, Red Cedar, Fresh Cut Northern Trees - Blue Spruce, Fraser Fir, Balsam Fir, Scotch Pine, Douglas Fir, Caanan Fir, Concolor Fir, White Pine
Address:Tony & Debbie Harris, 3325 Treiman Blvd (Hwy 301), Dade City, FL 33523
Phone: (352)583-3647
FAX: (352)583-0591
E-mail: info@ergletrees.com
Web Site: www.ergletrees.com
Directions: I-75 south to exit #301 (Hwy 50) Hwy 50 east 4 miles to Hwy 301. South 1 and ½ mile on 301. Farm on Hwy 301 8 miles north of Dade City.

Click Here For Map
Open daily from Sat. the weekend before Thanksgiving through Dec 23, 9 A.M. to 7:00 P.M.