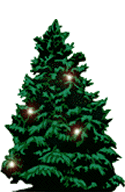 BOUVIER FARMS
Choose & Cut, Potted
Red Cedar, Leyland Cypress, Arizona Cypress
Address: Vincent A. Grund, P.O. Box 306, Baker, FL 32531
Phone: (850)303-2230, FAX (850)303-2230
Farm Phone: (850)865-6470
E-mail: vinman889@embarqmail.com
Web Site www.bouvierfarms.com
Directions: Farm at 1577 Vinson Ray Rd., Baker, FL 32531. From US 90 turn north on FL 4 continuing 4 miles to Baker. Continue north on FL 189 4 miles to Vinson Ray Rd. turn right 1 mile to farm.
Click Here For Map
Open: Tue. thru Fri. noon to 5 P.M. Sat. 8 to 5, Sun. noon to 5