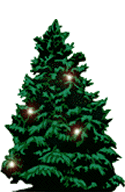 KANDY KANE CHRISTMAS TREELAND
Choose & Cut, Retail Lot
Sand Pine, Leyland Cypress, Fresh Cut Northern Trees - Fraser Firs
Address: John & Karen Cramer, PO Box 237, Anthony, FL 32617
Phone: (352)629-5634, FAX: (352)629-5696
E-mail: jkcramer@earthlink.net
Directions: Farm located at 10001 NE 27th Terrace, Anthony, FL 32617. Off NE 95th St Rd.
Click Here For Map
Open: Thanksgiving to Christmas Sat & Sun 9:00 to 6:00.